PressCenter
View EXO2 The Heat Inside Newsletters
---
EXO2 is Proud to Sponsor Sydney Collier and Syd's Para-Quest
Sydney Collier is a 14-year-old honor role student attending 10th grade in Ann Arbor, Michigan. She has been riding competitively since she was 7 years old, despite a rare life threatening medical disorder called Wyburn-Mason Syndrome.
---
We were the industry leader in providing a lifetime warranty for our FabRoc™ heat technology and heating systems and now have a more explicit way of promoting it.
---

PerSys Medical and EXO2 Join forces to treat battlefield hypothermia. The partnership introduces two powerful technologies that come together under a common goal.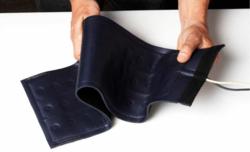 Flexible FabRoc™ Heat Technology exhibited in a waterproof bonding film and neoprene enclosure. read more
---
EXO2 Introduces a New, Trademarked Logo for FabRoc™
July 25, 2012 - Locust Grove, GA
EXO2 is proud to present its new, trademarked logo for FabRoc™ heat technology. "Our goal was to create a current and relevant identity for the technology itself as we partner with more and more companies who have chosen FabRoc™ for their OE products" says Drew Walston, President and CEO of EXO2. "After considering a number of options and iterations, and with some healthy internal debate, we're thrilled with the end result and believe it will help to further establish our technology's brand as a leader in the heated products marketplace", continues Mr. Walston.
Customers, dealers and OE Partners should contact EXO2 at branding@exo2.com for artwork, usage restrictions, etc. or contact EXO2 at 877-396-2432 for more information.
---
EXO2 Introduces Heated Equestrian Apparel
For both the rider and the horse!
EXO2 is pleased to announce the introduction of heated riding apparel (heated vests, jackets, gloves and insoles) and a heated horse blanket to our line of FabRoc™ heated products. If riding is your passion and you can't do it as much as you'd like in cooler months or if you're in the equstrian care business, please contact us at equestrian@exo2.com.
UPDATE: The EXOGLO Heated Horse Blankets will retail for $1,499.99 and are scheduled to be in stock by September 2012. The assembly includes the horse rug (with bag), four batteries (one for each zone), remote controls, and chargers for each battery. There are less expensive options on the market right now but we believe there'll be no comparison in terms of quality, heat production or durability. We've studied our competitor's product, which has small heating areas, and believe it may just take the chill off the animal. The new EXOGLO Heated Horse Blanket has four sizeable heating panels selected with veterinary advice to serve the critical areas for therapy and warm-up. We think equine owners and caregivers alike will love this product and find it to be a critical tool in the care for their pets and investments alike.
The blankets will be available in Small, Medium & Large. Contact us at equestrian@exo2.com for more updates and information.
---
EXO2 in Antarctica
Here we go again! In addition to recently providing custom solutions for an upcoming record breaking space flight and providing our FabRoc™ heated clothing for a record breaking volcano climb in South America, we have also just provided gear to Dr. Alexander Kumar as sponsorship for his Antarctic Sojourn.
Dr. Kumar is conducting human spaceflight research for the European Space Agency on testing the limits of human endurance as part of the preparations for a manned mission to Mars. Dr. Kumar is a 28 year old British doctor, Fellow of the Royal Geographical Society and member of the Explorer's Club. He has worked and traveled in over 60 countries and has spent a great deal of time in the Arctic. Having taken time away from his studies in Anesthetics and Acute Care training in Oxford, he is now living for 1 year, isolated in the most extreme environment on Earth (at the joint French-Italian Research station), in Concordia (Antarctica).
His team will soon endure 4 months of 24 hour (complete) darkness where temperatures will drop to minus 80 degrees Celsius (not including wind chill), making this the coldest location on Earth. They are actually more isolated than the International Space Station as in case of an emergency there is no opportunity for evacuation from February to November 2012.
So, when it came time to select the right gear for the job, we're thrilled that Dr. Kumar chose EXO2 and our line of FabRoc™ heated clothing!
Learn more about Dr. Kumar's work via his website www.AlexanderKumar.com
---
EXO2 Sponsors the Andes Moto Extreme Exhibition
It is our thrill and pleasure to announce our sponsorship of the "Andes Moto Extreme" team for their ambitious project for 2012. The team of three riders will travel to South America to tackle the world's highest volcano by motorcycle. The team, led by Walter Colebatch, is one with outstanding motorcycling and mountaineering experience. Mr. Colebatch, along with fellow teammates Barton Churchill (USA) and Lukas Matzinger (Austria) began talking to potential sponsors following the decision of the Austrian Motorcycle company, Husaberg, to sponsor the project by providing their motorcycles. Since then, they have attracted support from premium brands all over the world for their Guinness World Record Attempt "We are honored to again support Mr. Colebatch and his team's new record breaking effort", says Drew Walston, CEO of EXO2. "Their warmth and safety at such high altitudes is critical to their success and we are thrilled to be chosen by them as their heated clothing supplier of choice" continues Mr. Walston.
EXO2 has outfitted each rider with the StormRider BodyWarmer, the new StormGuard Heated Motorcycle Gloves, HeatSole Heated Insoles and a variety of power supplies and accessories. You can learn more about these products by visiting www.exo2.com.
More information can be obtained on the Andes Moto Extreme team's preparations and journey via these links, publications and social media sites.
www.facebook.com/HusabergAdventureTeam
http://www.alpinus-miejodwage.pl/363
---
From the Andes Moto Extreme Website:
EXO2 Heated Clothing:
Why? EXO2 make the heated clothing that provides the most heat for the lowest power draw of anyone in the world. Temperatures near the peaks of the Andes, even in summer can get down to -25C (-13F) so we wanted the finest heated clothing we could lay our hands on. Efficiency is key, as lightweight motorcycles do not have an unlimited ability to produce power. Quality is also key and the products we use must be tough enough for a world record attempt in an extreme environment. EXO2 gear is used by the UKs Royal Marines and a look at their website shows they have won more awards from motorcycle magazines around the world than you could possibly count. Their StormRider vest, brand new StormGuard gloves and heated boot insoles [HeatSoles Heated Insoles] are just what we need for avoiding frostbite in the extreme conditions we are likely to encounter.
UPDATE: March 18, 2012 - They Did It!!!
Yesterday, 18 March 2012, at 2:30 pm the Husaberg Adventure Team (Walter J Colebatch - UK, Barton Churchill - USA, Lukas Matzinger - Austria) set a new world record for altitude reached by motorcycle of 6,361 m / 20,869 ft, with a Husaberg ...FE 570 motorcycle on the snow covered volcano Ojos Del Salado, in Chile. This improves the previous best of 6,245 m / 20,489 set in 2008 by an Indian team in the Himalayas by 116 meters / 400 ft. Verification by Guinness World Records is pending. The team thanks our families, friends, our first class equipment and logistics sponsors, and the incredible community support that made this achievement possible. - Walter Colebatch, Team Leader
From the team on March 20, 2012 via Facebook Note: "We had a couple of mornings of around -10 C, and while starting the bikes was not a problem, starting ourselves WAS a problem. The EXO2 gear certainly helped keep us going."
UPDATE: May 09, 2012 - A Note from Team Leader Walter Colebatch
Hi EXO2,
The team is all in good spirits... Lukas and I are back in Europe and Barton is heading back to the US by bike. I will write a few comments in quoteable format.

We chose to use the EXO2 gear on our world altitude record ride up the volcano Ojos del Salado in Chile. The gear was an essential part of our equipment. The StormGuard gloves and StormRider vest were used almost daily once we were at high altitude, as temperatures in the morning were typically –10C. The whole complement of EXO2 gear was as reliable as always and Barton, our US member who had never used EXO2 gear before was particularly amazed by the heat output of the StormRider vest. We are all grateful for the warmth and reliability of the EXO2 gear and its contribution to our world record – the vest and the gloves kept our extremities warm and comfortable and gave us one thing less to worry about. I am heading off to Siberia again in 4 days time on another challenging motorcycle project and will of course be taking my EXO2 gear with me there too.

Cheers – thanks again for your help and support. Magazines in Italy, Germany and the US have already run stories on the project and some feature stories are on the way in France, Russia, UK and more in the US in coming months. Later in the year, when I am back from Siberia, we will look to put a film together of the project.

I have a directory of images from the project that you guys should feel free to access for any articles or marketing material. http://www.flickr.com/photos/c-sorensen/sets/72157629632933668/show/

Kind regards

Walter Colebatch
---
EXO2 Partners with Direct2MFG (D2M) for US Representation
EXO2 is thrilled to announce that we have partnered with D2M to represent our line of heated motorcycle clothing and accessories to the powersport community in the United States. Please read more about this exciting move in the Press Release which was issued on October 17, 2011.
---
Introducing the 'TrapWrap' Neck and Upper Back Warmer
EXO2 is pleased to introduce and promote the Moehr Enterprises 'TrapWrap®' featuring FabRoc™ Heat Technology by EXO2. Working with EXO2, Moehr Executive Jennifer Moe, was able to realize her vision to create and produce a stylish and comfortable neck and upper back warmer suitable for all ages and for any occasion. Through a number of iterations and configurations she was able to perfect what has been already touted in the marketplace as "A smart, unique and pleasurable warming aide which will equally benefit the spectator, the walker and the skier alike".
The TrapWrap® is made with top quality materials and excellent craftsmanship. The TrapWrap® is powered by a multi-level EXO2 7.4 volt rechargeable Lithium-Ion battery. Therefore, you can dial in the heat you want, when and where you need it!
---
EXO2 StormRider Bodywarmer - CycleWorld Product Evaluation
Evaluating electric riding gear in Southern California would, on the surface, seem to be as fruitful as working on a tan in Seattle. While some of the beach-bred locals may think that black ice is a rap artist, our year-round riding season does present its fair share of chilly two-wheeling. Read More


---
EXO2 and FabRoc™ Highlighted Again in Cycle World Magazine and also in All About Bikes Magazine
Winter Shminter. EXO2, maker of FabRoc™ heated clothing, has some of the best winter products around. EXO2 was built to provide winter clothing for the motorsports industry, but the success of its product has expanded their base to incorporate hunting, military, medical, and liesure. Read More


---
EXO2 Chosen to Supply Heated Garments for the Moon Regan Transantarctic Expedition
EXO2 is honored to support the Moon Regan Transantarctic Expedition by supplying StormRider Bodywarmers and StormShield Gloves for the operators of these really cool vehicles. Read More


---
Jorgensen Laboratories Selects EXO2 and FabRoc™ to Produce Their 1st Ever Heated Surgical Blankets/Mats for Animals
Jorgensen Laboratories Selects EXO2 and FabRoc™ to Produce Their 1st Ever Heated Surgical Blankets/Mats for Animals Preventing hypothermia is a priority and sometimes a serious challenge when animals, especially smaller canines and felines, are anesthetized for surgical procedures or when traumatically injured. Read More


---
October 2010 - Innovative Heat Technology, LLC is Appointed Interior Heated Seating Distributor by EXO2
EXO2 is pleased to announce that Innovative Heat Technology, LLC (IHT) has been awarded exclusive distribution rights in the US to expand the FabRoc™ Heating Seating by EXO2 line of products to homes, offices and businesses across the country. Formed exclusively to develop and promote commercial and industrial applications utilizing FabRoc™ heat technology, IHT is working with furniture manufacturers, medical suite providers and office equipment solution manufacturers to bring the benefits of FabRoc™ indoors. Read More


---

April 2010 - MCN Magazine - EXO2's Heating Gear Review
EXO2's FabRoc™ material proved that heat can be generated much more efficiently than before allowing riders of small or classic motorcycles without much excess alternator capacity to consider heated gear anew. Read More


---

FabRoc™ Heated Clothing by EXO2 Featured on Shooting USA
EXO2 was thrilled to provide StormWalker Heated Vests, HeatWave Heated Back Supports and HeatSole Heated Insoles to members of "Team Smith & Wesson" and their families during a recent televised Canadian Geese hunt which aired this spring on the Outdoor Channel. The feedback from the participants was outstanding with one family member stating that the EXO2 gear was all that kept her from calling it a day several times! Read More


---

January 2010 - Featured in Quick Throttle Magazine


---

December 2009 - Passes and Canyons Blog
"What I tested was the StormRider body warmer, which is essentially a vest, and the StormShield gloves, which (surprise!) are heated gloves. They're produced and sold by EXO2 The Heat Inside." Read More


---